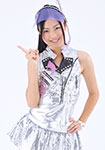 Maeshima Nako announced her graduation from Telepathy.
Maeshima Nako will participate in her last live performance with the air guitar idol group on February 11 at Tokyo Glad.
Maeshima Nako explained that she decided to stop her activities with Telepathy because she wants to focus on her studies. She dreams to become a model or an actress in the future.