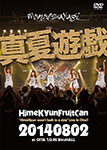 Hime Kyun Fruit Can concert Manatsu Yuugi "HimeKyun wasn't built in a day" Live in Oita!! will be released on DVD on October 8th.
As its title suggests, the event was held on August 2, 2014 at T.O.P.S. Bitts Hall, Oita.
Check out the video of the live performance of Andante (アンダンテ), Free Note (フリーノート) and Game Over.