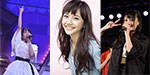 Mizuki (ex Shiritsu Ebisu Chuugaku) and Okamoto Natsumi (ex Oha Girl Chu! Chu! Chu!) will be starring in  GTO drama.
Kizaki Yuria (AKB48), Miyatake Mio (bump.y), Matsui Airi and Miyoshi Ayaka (ex Sakura Gakuin) will also make some appearances in the drama.
The story is based on the popular manga GTO (Great Teacher Onizuka, グレート・ティーチャー・オニヅカ) by Fujisawa Tohru.