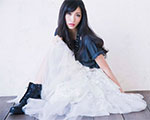 Yokoyama Rurika (Idoling!!!) will release her new single Mega Lover (メガラバ ; Mega Raba) on February 5.
This is the 3rd solo single from Yokoyama Rurika. 3 editions are available.
The short version of the MV and a video message from the member of Idoling!!! have been released.
Mega Lover is the ending theme song for the anime Toriko (トリコ) airing on NHK.