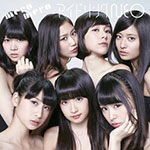 Idoling Neo will release their 1st single Mero Mero on November 13.
Idoling Neo is a new unit consisting of 7 members from Idoling!!! including Ito Yuna, Goto Kaoru, and the 5 new ones Furuhashi Mayu, Sekiya Mayu, Hashimoto Ruka, Sato Rena, Sato Michaela Shizuko.
3 editions are available.
The limited editions include a DVD with the music video, the making-of, and bonus footage. They come with a trading card and a ticket for an event.