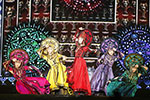 Momoiro Clover Z Japan Tour 2013 Gounn was released on DVD and Blu-ray on March 26.
The DVD and the Blu-ray include the final performance of Momoclo's live tour. The concert was recorded on November 22 at Sekisui Heim Super Arena in Miyagi.
Momoiro Clover Z released new videos of the live performance.