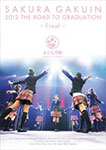 Sakura Gakuin will release their live DVD The Road to Graduation Final ~Sakura Gakuin 2012 Nendo Sotsugyou~ (~さくら学院 2012年度 卒業~) on July 3.
The DVD includes 17 songs performed by Sakura Gakuin and its sub-units including Babymetal.
The concert took place on March 31 at Tokyo International Forum.
The graduation ceremony of Nakamoto Suzuka and Sugimoto Mariri was held during this event. The former leader also performed a solo song.