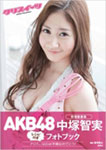 Nakatsuka Tomomi Recipe Tsuki Photobook (AKB48料理部部長 中塚智実レシピ付きフォトブック クリスイーツ) will be released on July 7.
Nakatsuka Tomomi is the leader of AKB48 Cooking Club. For this reason, the theme of the photobook is "cooking". It features photos of Nakatsuka Tomomi as a gravure idol, wearing aprons or swimsuits. It also includes an interview, and 48 recipes made by Tomochan and published in Weekly Playboy magazine.
The book has 96 pages and is in A5 format.
Nakatsuka Tomomi will graduate from AKB48 on July 7. She is a member of Team A.