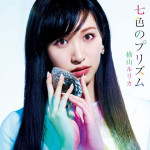 Yokoyama Rurika's new single Nanairo no Prism (七色のプリズム) will be on sale on May 13.
The is the 5th solo single from Idoling!!! member Yokoyama Rurika, and the first one since the release her previous disc one year ago.
The short version of the MV has been unveiled. It is a fresh pop song.