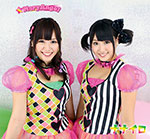 Mary Angel's new single Nanairo (ナナイロ) will be released on November 27.
It is the 7th single from Mary Angel.
The CD includes 3 different songs. Only one edition is available.
Nanairo is usually sung by Mary Angel at their live performances.
The coupling track Arigatou is a ballad song thanking fans for their support since the creation of the idol group 6 years ago.