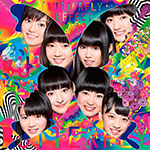 Shiritsu Ebisu Chuugaku's new single Butterfly Effect (バタフライエフェクト) will be released on June 4.
It is the opening theme song for the anime Nanana's Buried Treasure (龍ヶ嬢七々々の埋蔵金) broadcast on Fuji TV. Shiritsu Ebisu Chuugaku member Mayama Rika performs as a seiyū (voice actress) in this anime series.
The music video and its dance version have been released.