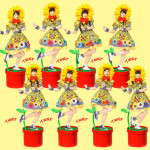 Shiritsu Ebisu Chuugaku's 8th single Natsu Daze Johnny (夏だぜジョニー) will be released on June 17.
The 8 members of Ebichu turned into flowers twist dancing on the new artist photo of the idol group. They are wearing costumes featuring sunflowers motifs.
The theme is "flower rock dancing". It is a summer song.