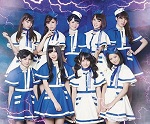 Passpo☆ will release DVDs of their live concerts Next Flight Fes (「Next Flight」フェス), Natsuzora Hanabi Fes (「夏空Hanabi」フェス), and Wing Fes (「Wing」フェス) on January 30.
Next Flight Fes was held at Hibiya Open-Air Concert Hall on July 8, 2012. The DVD includes Next Flight (Lip ver. and Dance ver.).
Natsuzora Hanabi Fes took place at Yomiuri Land on August 26, 2012. The DVD features solo versions of Natsuzora Hanabi sung by 9 members.
Wing Fes was held at Zepp Tokyo on October 8, 2012. It includes music video, making-of footage of Wing, and more.