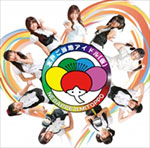 Mito Gotochi Idol's new single Nebappe☆Mitoppo will be released on December 12.
This is the 1st single from Mito Gotochi Idol. Only one edition is available. The CD includes 2 songs, their instrumental versions, and a bonus track.
A video of Nebappe☆Mitoppo recorded during a live performance has been released.