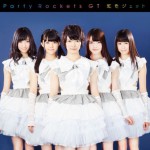 Party Rockets GT's 6th single Nijiiro Jet (虹色ジェット) will be on sale on February 24th.
New members Ayumi, Himeka and Nanase, who have joined the idol group last October, are making their first appearance on this single.
In the MV, Party Rockets GT members are practicing choreography in a dance studio and in the streets of Tokyo.