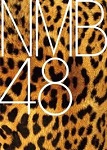 NMB48 Live Tour 2013 Photobook Nishi Nihon Oudan Hen (NMB48ライブツアー2013 Photobook 西日本横断編) will be released on June 11.
The photobook includes pictures of live performances, rehearsal, backstage, and more. It comes with 5 photos randomly selected.
The concert tour NMB48 Western Japan Tour 2013 was held from March 4 to April 5.