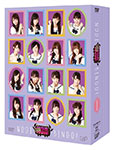 The TV show Nogibingo! hosted by Nogizaka46 will be released on DVD on March 7.
Nogibingo! is inspired by AKB48 AKBingo. The TV show was created to prove that Nogizaka46 could become as popular as  AKB48.
The season 1 was broadcast on Wednesdays from July 3 to September 18, 2013 on NTV (日本テレビ).