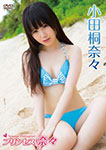 Houkago Princess' Odagiri Nana's solo DVD Princess Nana will be released on November 27.
This is the 1st solo DVD from Odagiri Nana. It includes footage of herself wearing various costumes (swimsuit, school uniform…). It enhances the innocent charm and the cuteness of the idol.
Odagiri Nana is the leader of Houkago Princess. She joined the idol group as a 1st generation member.