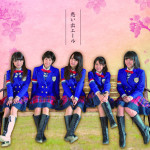 KOBerrieS♪ 3rd single Omoide Yell (思い出エール) will be released on January 14.
Omoide Yell is a rock song produced by Gagaga SP's guitarist Yamamoto Satoshi. He wrote this song to support Kobe for the 20th anniversary of the earthquake that hit the area.
KOBerrieS♪ collaborated with him as they are a local idol group from Kobe.
The MV has been unveiled.