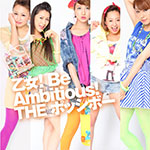 The Possible's new single Otome! Be Ambitious (乙女!Be Ambitious) will be released on September 11.
Otome! Be Ambitious is described as being a "ultra high speed ska × melodic core × reggae" song.
5 limited editions are available, each one featuring a solo vocal version of the title song performed by a different member of The Possible. They also include an acoustic version of the coupling track.