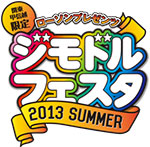 Up Up Girls, Palet, Tochiotome25, Angel Generation, Akagidan, Otome☆Corporation, Fuji Sakura Jyuku, Natural Point, KGY40Jr., Pinkish, and Shimonchu will perform at Jimodol Festa 2013 Summer (ジモドルフェスタ2013 Summer).
9nine and Ono Erena will also participate in the event as special guests.
The live will be held on August 25 at Shibuya-AX in Tokyo.
The concert is organized by Lawson as part of a campaign to promote local idol groups coming from 9 Japanese prefectures.