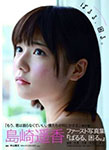 Shimazaki Haruka (AKB48) will release her 1st photobook Paruru, Komaru (ぱるる、困る。) on July 19.
The photos were taken in the 5 major cities of Japan : Fukuoka, Sapporo, Osaka, Nagoya, and Tokyo. They show Shimazaki Haruka traveling to these places during one week.
The photobook also includes pictures of the member of AKB48 in swimsuit.
The book has 144 pages.
It comes with a A2 size poster of Paruru randomly selected from 5 kinds.