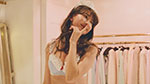 Kojima Haruna (AKB48) appeared in a new commercial for Peach John lingerie.
In the 2nd episode of a series titled #PJ_Girl Movie, Kojima Haruna and models Maggie and Oya Kana have a party. They enjoy taking pictures of themselves wearing sexy underwears and share the selfies on the internet.
Check out the videos.