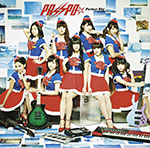 Passpo☆'s new single Perfect Sky will be released on March 26.
This is the idol group's first single in 2014. Perfect Sky will showcase a "band version of Passpo☆" which was announced in advance as a concept.
Passpo☆ unveiled the artwork, the teaser, the MV and a documentary on their formation as a rock band.