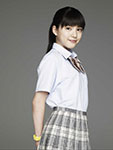 Kawashima Umika (9nine) will be starring in the drama Pin to Kona (ぴんとこな).
Pin to Kona is based on the manga of the same name by Shimaki Ako published on the monthly Japanese shoujo manga magazine Cheese!.
The drama will start airing in July. It will be broadcast every Thursday evening at 21:00 on TBS.
Tamamori Yuta (Kis-My-Ft2), Nakayama Yuma (NYC), Matsumura Hokuto and Jesse (Johnny's Jr) will also play in the series.