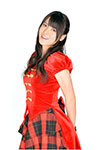 Leader of the idol group °C-ute Yajima Maimi is going to release a new photobook titled Pure Eyes on March 27.
The shooting of Pure Eyes took place on the island of Hawaii, surrounded by mountains, sea, magnificent wilderness, and a lava field.
This photobook features natural and pure facial expressions of Yajima Maimi who has grown a lot into a beautiful woman. Her spirit and presence stands out in the pictures.