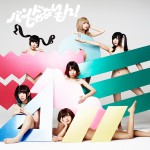 The new album of Band Ja Naimon! Re:start is on sale since April 22.
This is the 1st full album of the idol group, the group has released a self-titled mini album in 2012.
The tracklist was unveiled.
The music videos for Kimi no Sekai ga Egao Yabai and Chocolat Love (video of a different version) have been posted on YouTube. You can watch them below.