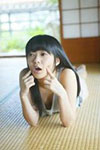 Sashihara Rino 1st Photobook (指原莉乃ファースト写真集) will be released on December 25.
The photos were taken in Okinawa. This photobook includes sexy pictures of Sashihara Rino in swimsuit. The member of HKT48 faces some challenges such as paddle surfing, etc.
The book has 152 pages. It is published by Kobunsha (光文社).