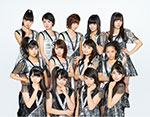 Morning Musume '15 will release their 58th single Seishun Kozou ga Naiteiru / Yuugure wa Ameagari / Ima Koko Kara (青春小僧が泣いている / 夕暮れは雨上がり / イマココカラ) on April 15.
Morning Musume 12th Generation members are making their first appearance on this single. It has a triple A-side.
The new profile picture of the idol group from Hello! Project has been unveiled.