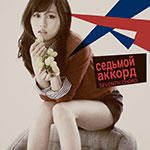 Maeda Atsuko's new solo single Seventh Chord (セブンスコード) will be released on March 5.
The theme is Russia. The CD artwork is inspired by the Russian avant-garde of the 1910s.
Seventh Chord is the theme song for the movie of the same name starring former AKB48 member Maeda Atsuko.
The MV has been released.