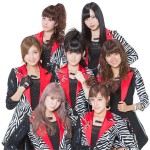 Berryz Kobo will release Shin Kaettekita Berryz Kamen! (新 帰って来た ベリーズ仮面!) Vol.4 & 5 on DVD on May 22.
The DVDs features the play, a mini concert, and more footage of Berryz Kamen.
The performances were recorded on June 2, 2012.
The first 3 volumes of the series are on sale since December and January.