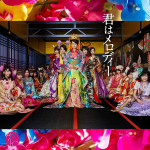 The new single of AKB48 Kimi wa Melody (君はメロディー) will be on sale on March 9.
This is the 43rd single of the idol group. It celebrates for the second time the 10th anniversary of the group (after the recent release of a compilation album in last November).
For this occasion, some former members such as the popular Maeda Atsuko, Itano Tomomi, Shinoda Mariko and Oshima Yuko make a brilliant appearance on the covers of singles and the clip. Although they have not participated in the recording of the single in its entirety, they perform the title track.