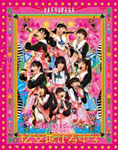 Shiritsu Ebisu Chuugaku's live Kuruizaki Ebi Road ~Owarinaki Shinkyuu~ (狂い咲きエビィーロード ~終わりなき進級~) will be released on DVD and Blu-ray on July 24.
The DVD and the Blu-ray include the 22 songs performed by Ebichu at the live. They also contain making-of footage.
The first press editions come with a 40-page booklet and a postcard.
The concert was recorded on March 31, 2013 at Yomiuri Land East in Tokyo.