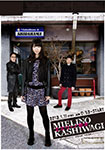 The drama Mielino Kashiwagi (ミエリーノ柏木) starring Kashiwagi Yuki (AKB48) will be released on DVD and Blu-ray on June 28.
Kashiwagi Yuki plays the role of a cafe assistant having the special ability to see the future love life of the person who touches her.
The DVD and the Blu-ray box sets include a bonus disc featuring making-of, interviews, PR footage, and more.
Kashiwagi Yuki's solo debut single Shortcake (ショートケーキ), which will be released on February 6, is the theme song for the drama Mielino Kashiwagi.