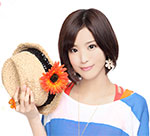 Kitahara Sayaka, as Sorano Aoi, will release her 1st album Haru no Gradation (春のグラデーション) on March 6.
The album contains 11 songs, including her last singles.
The limited edition come with a bonus DVD featuring music videos.
The album includes the theme songs for the anime series Inazuma Eleven (イナズマイレブン).
Kitahara Sayaka is former member of Hello! Pro Egg and Milky Way from Hello! Project.