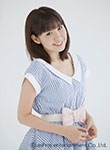 Satake Uki (9nine) will be voice acting in the anime series Space Dandy (スペース☆ダンディ).
She will dub the voice of a robot vacuum cleaner named QT who is a friend of the hero. Satake Uki has already experienced voice acting as she was a seiyuu for the anime series Chihayarufuru 2 (ちはやふる2) and Hunter × Hunter.
Space Dandy is a space SF comedy. It will start broadcasting on TV in January 2014.