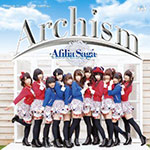 Afilia Saga's 2nd album Archism (アーチズム) will be released on April 24.
The album contains 4 new songs including Happy! Puppy!. It also includes their latest singles La La La Revolution, Mirai ga Watashi wo Matteiru, Kindan Muteki no Darling, and Survive.
The limited editions come with a bonus DVD featuring music videos.
Deluxe edition contains 3 bonus tracks and a video of Afilia Saga East 3rd one-man live To☆Ki☆Me☆Ki Mahou (ト☆キ☆メ☆キ魔法) held on June 9, 2012 at Gotanda Yupoto.