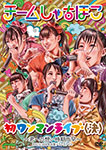 Team Syachihoko 1st One-Man Live ~Kimi e no Omoi Jiki Shousou~ (チームしゃちほこ 初ワンマンライブ(決)~君への想い時期尚早~) will be released on DVD and Blu-ray on April 24.
The concert was held on December 30, 2012 at Club Quattro, Nagoya.
The DVD and the Blu-ray include the 12 songs performed during the concert and a 45-minute bonus video.