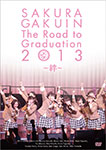 Sakura Gakuin The Road to Graduation 2013 will be released on DVD on July 23.
Sakura Gakuin and their sub-units Pastel Wind, Mini-Patissier and Kyuumei Kikou Logica? participated in this live performance.
It includes the graduation ceremony of Horiuchi Marina, Iida Raura, Sugisaki Nene, and Sato Hinata.
The trailer has been unveiled.