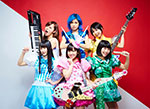 Gacharic Spin's new single Sekira Liar / Tokenai Candy (赤裸ライアー / 溶けないCandy) will be released on February 25.
This is the major debut single from Gacharic Spin. Mai and Arisa, who joined the band in June 2014, are credited as Gacha Gacha Dancers.
Tokenai Candy is the ending theme song for the anime Tenkai Knights (テンカイナイト).