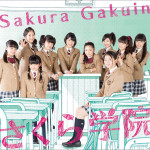 The new album of Sakura Gakuin entitled Sakura Gakuin 2014 Nendo ~ Kimi ni Todoke ~ (さくら学院2014年度 ~君に届け~) was released on last March 25.
This is the 5th album of Sakura Gakuin.
The album includes the recent singles of group released in DVD : Heart no Hoshi, et Aogeba Toutoshi ~From Sakura Gakuin 2014~, what makes this album the first one of the groupe to contain only singles released in DVD format.