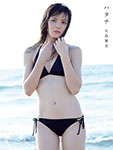 Yajima Maimi's photobook Hatachi (ハタチ) will be released on November 27.
This is the 6th photobook from °C-ute's leader.
This book shows a more mature girl since she became an adult. It contains photos of Yajima Maimi wearing swimsuit, yukata, and other scenes.
Yajima Maimi's 3rd DVD Chelsie will be released on December 19.