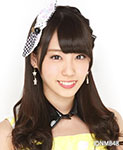 Yamagishi Natsumi (山岸 奈津美) announced her graduation on March 1st during a Team N performance at the NMB48 Theater in Osaka.
Yamagishi's final day with NMB48 will be on March 12 during a performance.
Yamagishi explained that she would be graduating to focus her dream of becoming a model. The next day, she posted a message on Google+ on which she asked for fans to continue to support her when she will become a model, even if she would no longer be an idol.