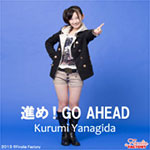 Yanagida Kurumi's new single Susume! Go Ahead (進め!Go Ahead) will be released on September 29.
This is the 2nd solo single from Yanagida Kurumi. 3 editions are available.
The CD will be on sale at the live event Finolia Factory Holiday Special Vol.63 which will be held on September 29 at Shibuya Cyclone in Tokyo.