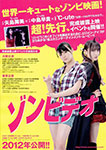 The horror comedy film Zomvideo (ゾンビデオ) starring Yajima Maimi and Nakajima Saki (°C-ute) will be released on DVD on April 10.
The movie has been released in 2011. It was directed by Murakami Kenji.
The title, Zomvideo, is a word play with "Zombie" and "Video".
°C-ute's 17th single Sekaiichi Happy na Onna no Ko (世界一Happyな女の子) is the theme song for the movie.
The DVD includes theatrical trailer, making-of, greeting, and audio commentary from Murakami Kenji.