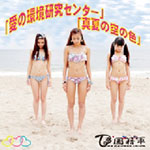 Takokusekigun's 7th single Ai no Kankyou Kenkyuu Center / Manatsu no Sora no Iro (愛の環境研究センター / 真夏の空の色) will be released on July 30.
It is a double A-side single.
The limited edition includes a bonus DVD featuring the music videos.
The lyrics of both songs were written by Black Cherry. The music was composed respectively by pw.a and Hirata Masakatsu.
Tracklist
CD

Ai no Kankyou Kenkyuu Center (愛の環境研究センター)
Manatsu no Sora no Iro (真夏の空の色)
Ai no Kankyou Kenkyuu Center (愛の環境研究センター) (Instrumental)
Manatsu no Sora no Iro (愛の環境研究センター) (Instrumental)
DVD (Limited Edition)

Ai no Kankyou Kenkyuu Center (愛の環境研究センター) (Music Video)
Manatsu no Sora no Iro (真夏の空の色) (Music Video)
Music Video (PV)