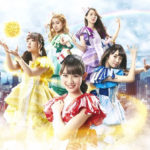 Team Syachihoko will release its new single Jump Man on February 28th.
This is the 8th single of the idol group.
Check out the MV below.
The single is sold in regular and limited editions A, B and C.
The CD is different depending on the edition because the list of titles changes to the 3rd track.
Tracklist
Regular & Editions B and C CD

JUMP MAN
Color Color (カラカラ)
Uten Kekko (雨天決行)
JUMP MAN (Off Vocal Ver.)
Color Color (Off Vocal Ver.)
Uten Kekko (Off Vocal Ver.)
Edition A CD

JUMP MAN
Color Color (カラカラ)
Seijen Universe (セイジンユニバース)
JUMP MAN (Off Vocal Ver.)
Color Color (Off Vocal Ver.)
Seijen Universe (Off Vocal Ver.)
Music Video (PV)