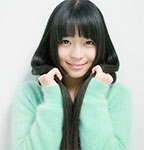 Terashima Yufu, former member of BiS, is going to make her solo debut. Her 1st solo single will be released on February 26.
The lyrics of the title song will be written by Yumemi Nemu from Dempagumi.inc. The music will be composed by Rionos.
The title of the single and more details will be announced later.
Terashima Yufu withdrew from BiS in May 2013.