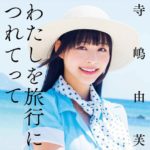 The new single of Terashima Yufu will be on sale on July 12.
It is entitled Watashi wo Ryoko ni Tsuretette (わたしを旅行につれてって).
Check out the short version of the MV below!
The music and the video are strongly inspired by those of the Japanese idols of the 1980s.
Terashima Yufu's single was produced by Akirataro Kamo.
The single will be available in 3 versions: one regular, two others A and B.
The DVDs of the limited edition will contain the MV of the main song, its making-of and a special video.
Tracklist
Regular Edition

CD

Watashi wo Tabi ni Tsuretette (わたしを旅行につれてって)
Natsu'n ON-DO (夏'n ON-DO)
Natsuiro no Nancy (夏色のナンシー)
Watashi wo Tabi ni Tsuretette (off vocal)
Natsu'n ON-DO (off vocal)
Natsuiro no Nancy (off vocal)
Edition A

CD

Watashi wo Tabi ni Tsuretette (わたしを旅行につれてって)
Natsuiro no Nancy (夏色のナンシー)
Watashi wo Tabi ni Tsuretette (off vocal)
Natsuiro no Nancy (off vocal)

DVD

Watashi wo Tabi ni Tsuretette (Music Video + Making Of)
Edition B

CD

Watashi wo Tabi ni Tsuretette (わたしを旅行につれてって)
Natsu'n ON-DO (夏'n ON-DO)
Watashi wo Tabi ni Tsuretette (off vocal)
Natsu'n ON-DO (off vocal)

DVD

Special project – "I'm going to go here with Yufu Terashima"
Music Video (PV)