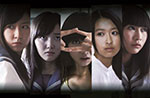 Tokyo Girls' Style members will be starring in the movie Gakko no Kaidan -Noroi no Kotodama- (学校の怪談 -呪いの言霊-).
Tokyo Girls' Style's 16th single Jujika ~Gakko no Kaidan -Noroi no Kotodama- ver. (十字架 ~映画『学校の怪談 -呪いの言霊-』Ver.~) will be the original soundtrack of the movie.
Check out the trailer and the MV.
Gakko no Kaidan is an horror movie. As its title suggests, the story is about ghosts and takes place in a school.
The film will be released on May 23 in theaters in Japan.
Their upcoming single Jujika will go on sale on May 21. 4 editions are available. In addition to the theme, it includes solo songs performed by each member of the idol group.
Furthermore, the members of Tokyo Girls Style are also starring in the movie Count 5 to Dream of You (5つ数えれば君の夢).
The idol group's 4th album Killing Me Softly will be on sale on June 4.
Tracklist
Type A

CD

Juushika ~Gakko no Kaidan -Noroi no Kotodama- ver. (十字架 ~映画『学校の怪談 -呪いの言霊-』Ver.~)
Horror Song (ホラー楽曲(仮)) / Konishi Ayano
Horror Song (ホラー楽曲(仮)) / Nakae Yuri
Juushika ~Gakko no Kaidan -Noroi no Kotodama- ver. (十字架 ~映画『学校の怪談 -呪いの言霊-』Ver.~) (Instrumental)

DVD

Music Video
Making-of (メイキング映像)
Type B

CD

Juushika ~Gakko no Kaidan -Noroi no Kotodama- ver. (十字架 ~映画『学校の怪談 -呪いの言霊-』Ver.~)
Horror Song (ホラー楽曲(仮)) / Yamabe Miyu
Horror Song (ホラー楽曲(仮)) / Arai Hitomi
Juushika ~Gakko no Kaidan -Noroi no Kotodama- ver. (十字架 ~映画『学校の怪談 -呪いの言霊-』Ver.~) (Instrumental)

DVD

Odekake Movie (おでかけムービー)
Type C

CD

Juushika ~Gakko no Kaidan -Noroi no Kotodama- ver. (十字架 ~映画『学校の怪談 -呪いの言霊-』Ver.~)
Horror Song (ホラー楽曲(仮)) / Shoki Mei
Juushika -remix- (十字架 -remix-)
Juushika ~Gakko no Kaidan -Noroi no Kotodama- ver. (十字架 ~映画『学校の怪談 -呪いの言霊-』Ver.~) (Instrumental)
Music Video (PV)
Trailer